The Best Country Pubs in West Sussex
Relaxing, revitalising, re-centering: Who doesn't love a visit to the pub. We at Concierge Camping are lucky to have a range of excellent watering holes and hidden food havens near our home in Chichester. So, we decided to put together a hit list of the best country pubs in West Sussex. We recommend trying as many of them as you can (for research purposes, of course).
Make sure you read to the end to find out about a range of discounts you can receive for local country pubs with our new Concierge Club!
Why Visit a Country Pub?
A trip to a country pub is a given right in West Sussex. It is a way to escape the every day and feel a shared sense of wellbeing within a tight knit, welcoming community. Everyone has their own idea of the perfect country pub – be that a cosy wood fire, hearty home-cooked food or a bustling beer garden. 
Only a truly perfect pub can rouse a feeling of calm and serenity. Our picturesque, historic surroundings make for a beautiful backdrop in any season you choose to visit. When you find your perfect pub, there are few places you'll be happier to call your 'home from home', maybe aside from Concierge Camping!
In West Sussex your ideal country pub is only a short scenic walk away. Read on to discover some of our favourite places to spend an evening near West Ashling, South Downs and Chichester!
The Richmond Arms, West Ashling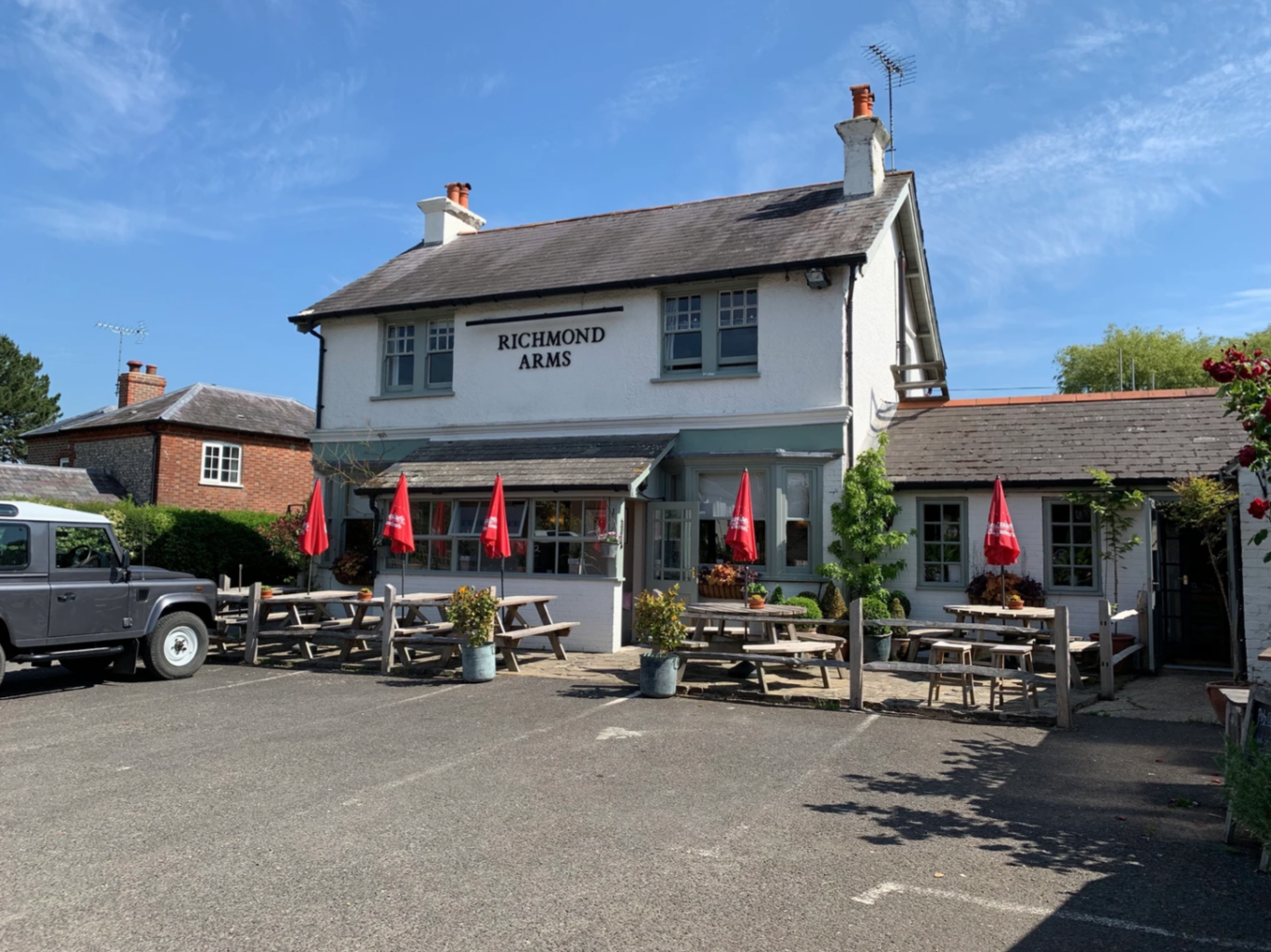 The Richmond Arms is a busting and beautiful country pub located in our serene village of West Ashling, just a 3 minute drive from our base at Concierge Camping! They are set in the heart of the West Sussex countryside, sitting on the cusp of the South Downs National Park and the waterways of Chichester harbour.
Currently under new ownership, Dan and Sam Escott promise a warm welcome and food-centred experience which is inspired by their beautiful location. In their own words, 'the team have a passion for food, how it is sourced, prepared and cooked. We are proud to work with and support many local West Sussex producers. The journey from field-to-fork is as brief and environmentally friendly as can be'.
The Richmond Arms host a main seasonal menu, lunch menu, excellent Sunday Roast and Pizza evening on Mondays, after partnering with Stoked Kitchen. Also on offer is a wine list that pairs brilliantly with their menu and a great line up of larger, ales and non-alcoholic soft drinks.
Visit The Richmond Arms website for opening times and more
Directions from Concierge to The Richmond Arms
Horse & Groom, East AshlinG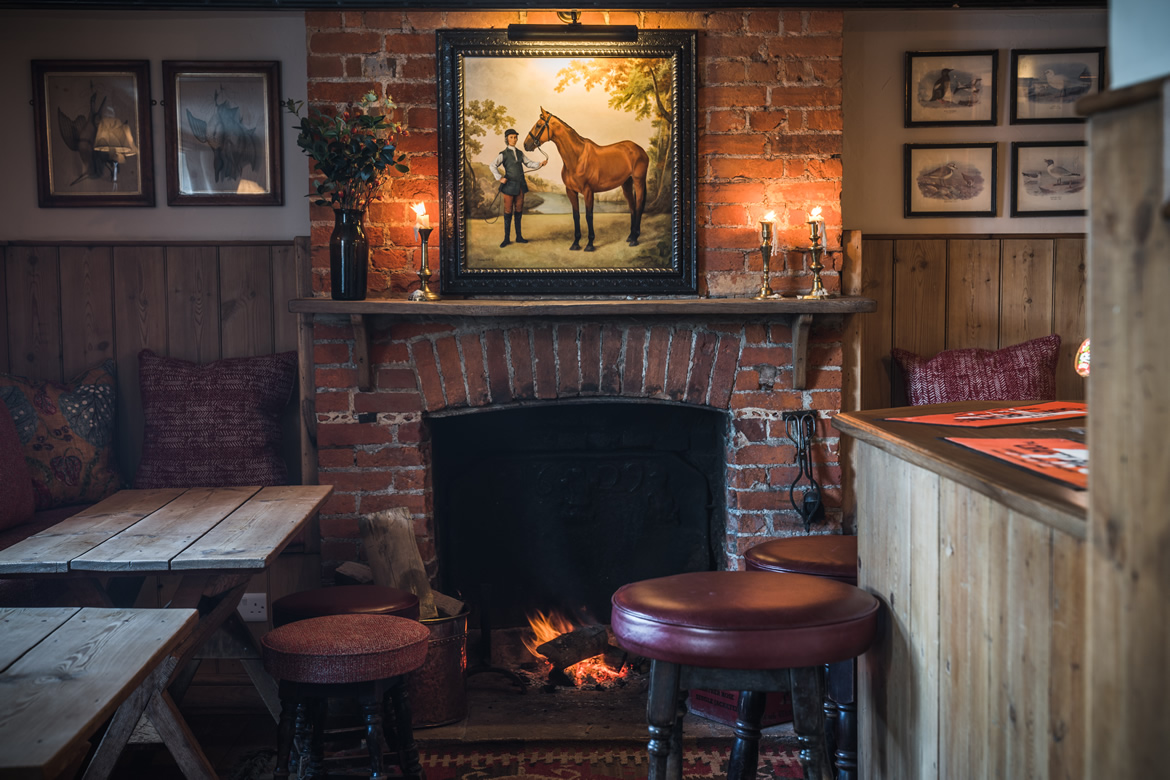 Located a short drive or scenic walk away from Concierge in picturesque East Ashling, The Horse and Groom is a famous local venue that is steeped in history. If you're looking for a pub with a story, this is the place to go. The Horse and Groom has been East Ashling's free house for over 200 years. Amongst the decorative features are an 1840 chestnut serving table from the mountains of Andalusia, metre-high bronze horse and a jockey sculpture in the entrance hall.
The new owners of The Horse and Groom promise great hospitality and a focus on locally-sourced food, which are part of the cultural journey that the country free house offers. From the flavoursome smoked salmon to the venison loin they serve, the chefs at the Horse and Groom only use the finest produce the area has to offer. Dine with the backdrop of English, French and Swedish paintings from the early 20th century which create a kaleidoscope of colour.
East Ashling is a beautiful area. Why not enjoy a scenic walk in the quaint village and finish with a trip to The Horse and Groom at the end? Some of our favourite walks include Stoke Clum, Kingley Vale, and Monarch's Way.
Booking is essential here.
Visit The Horse and Groom website for opening times, menus and more
Directions from Concierge to The Horse and Groom
Fox & Hounds, Funtington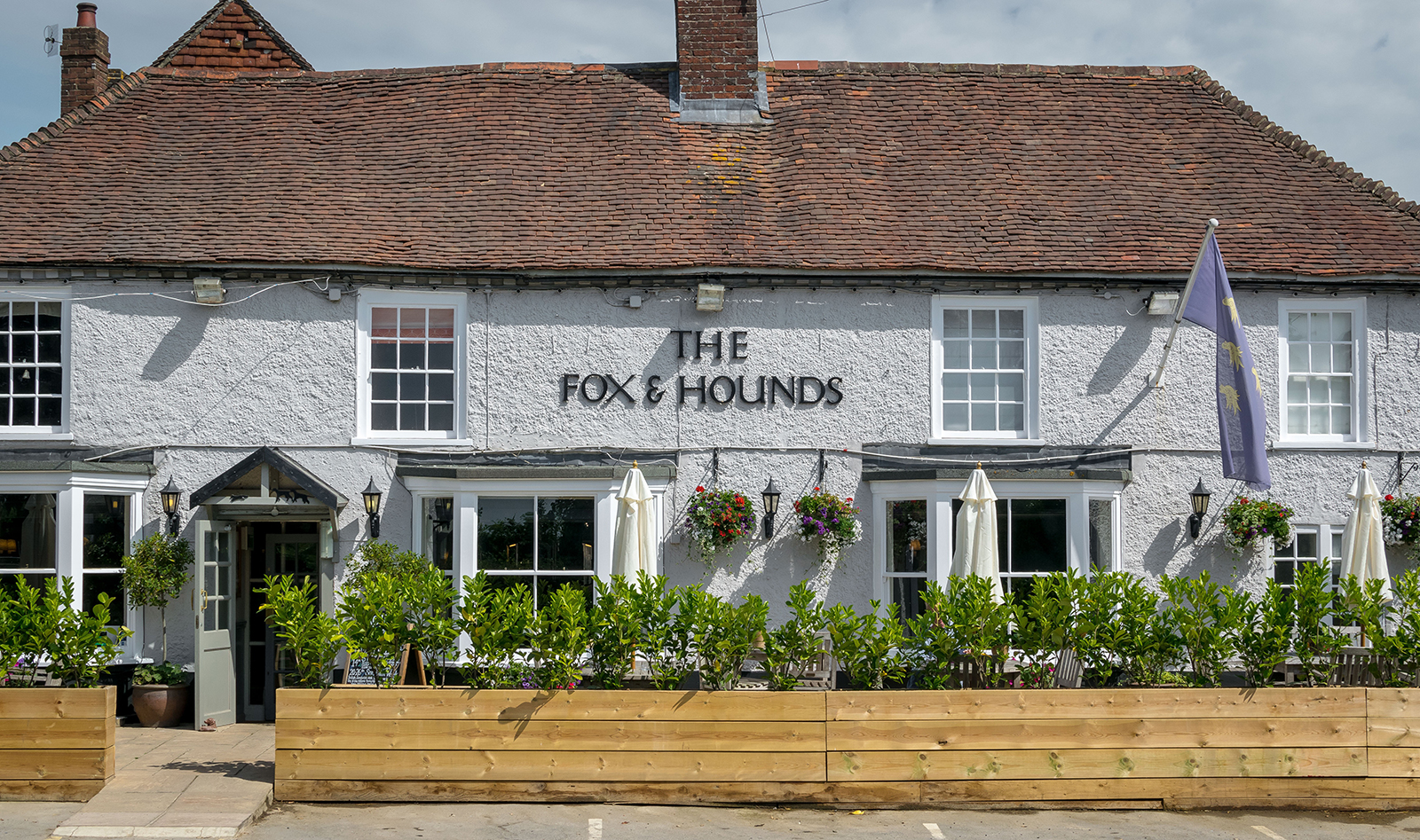 As another venue with rich history in West Sussex, The Fox and Hounds was first listed as a public house in 1878. After a full building and garden renovation in 2007, the country pub has continued to develop the venue to create an inviting and comfortable space. By sympathetically maintaining a lot of period features whilst updating the pub, the atmosphere is welcoming and unique – a traditional space with a modern twist.
The Fox and Hounds serve a range of reasonably priced food and drink in the charming village of Funtington – which is just a short drive away from us! They boast a large wine list, fine dining experience, well-stocked bar with many real ales, a large garden and impeccable service.
Visit The Fox and Hounds website for opening times, menus and more info
Directions from Concierge to The Fox and Hounds
The Bridge Inn, Amberley

Located in the heart of South Downs, The Bridge Inn is a country pub that simply ticks all the boxes. Managers Natasha and Dave are welcoming hosts who create a friendly atmosphere their traditional country pub in West Sussex.
The Bridge Inn serves real ales, good wines and home cooked food! In Summer you'll love spending time in the sprawling garden and patio, and come the winter, you'll find comfort by the log fires.
Visit The Bridge Inn website for opening times, menus and more
Directions from Concierge to The Bridge Inn
The Countryman Inn, Shipley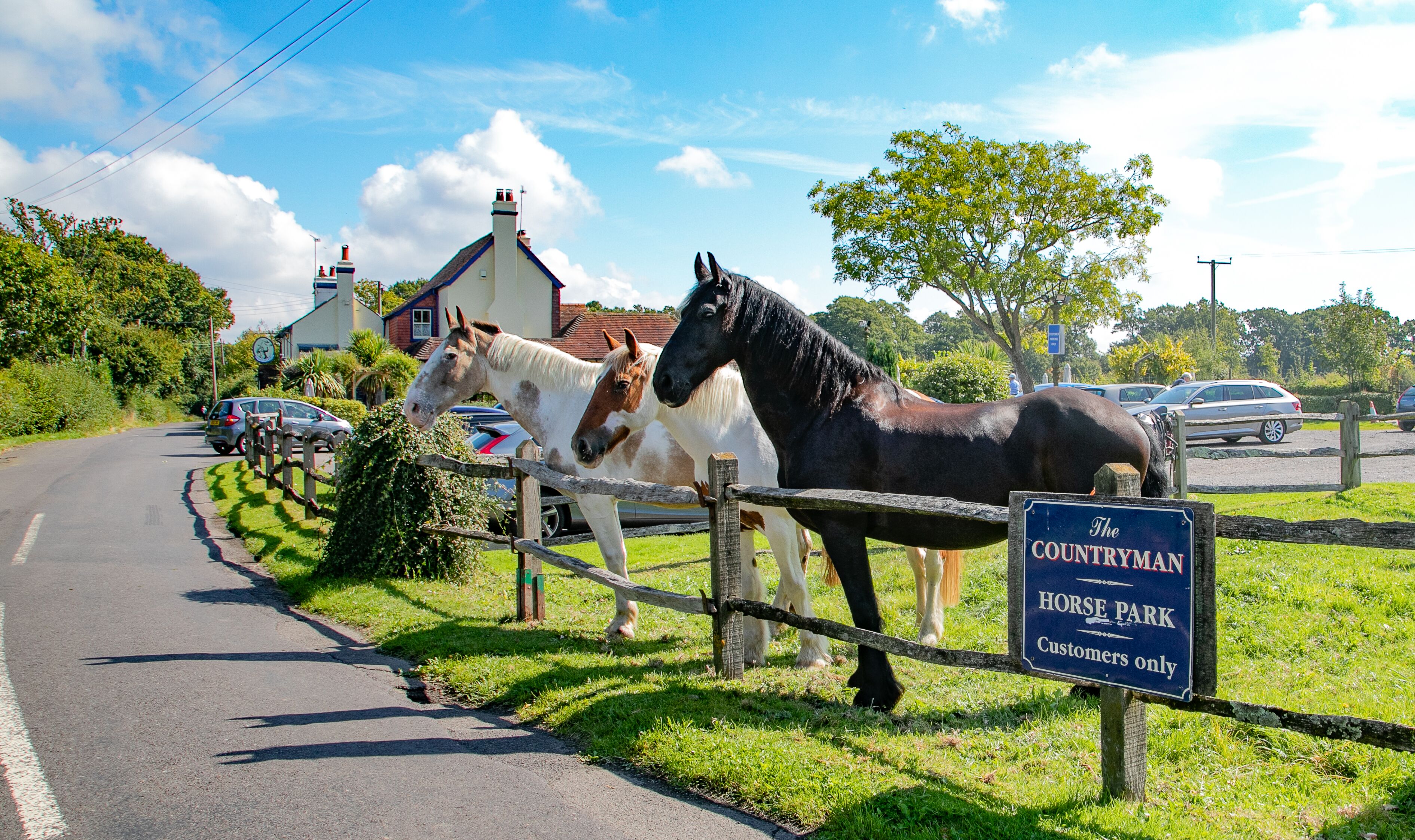 The Countryman pride themselves on being 'the perfect place to relax'. Located in the small village of Shipley, this country pub is set amongst stunning open countryside.
In winter you'll find warmth by the wood burning stoves, and all year round you'll enjoy the three different traditional ales that change to compliment the different seasons.
The Countryman is the place to go for traditional country pub fayre. As they put it – 'we use fresh seasonal ingredients from neighbouring farms, growers and producers. Fresh fish is always available and is landed at Newhaven, Brighton and Shoreham from family-owned day boats working along the south coast'.
Visit The Countryman Inn website or opening times, menus and more
Directions from Concierge to The Countryman Inn
Where to stay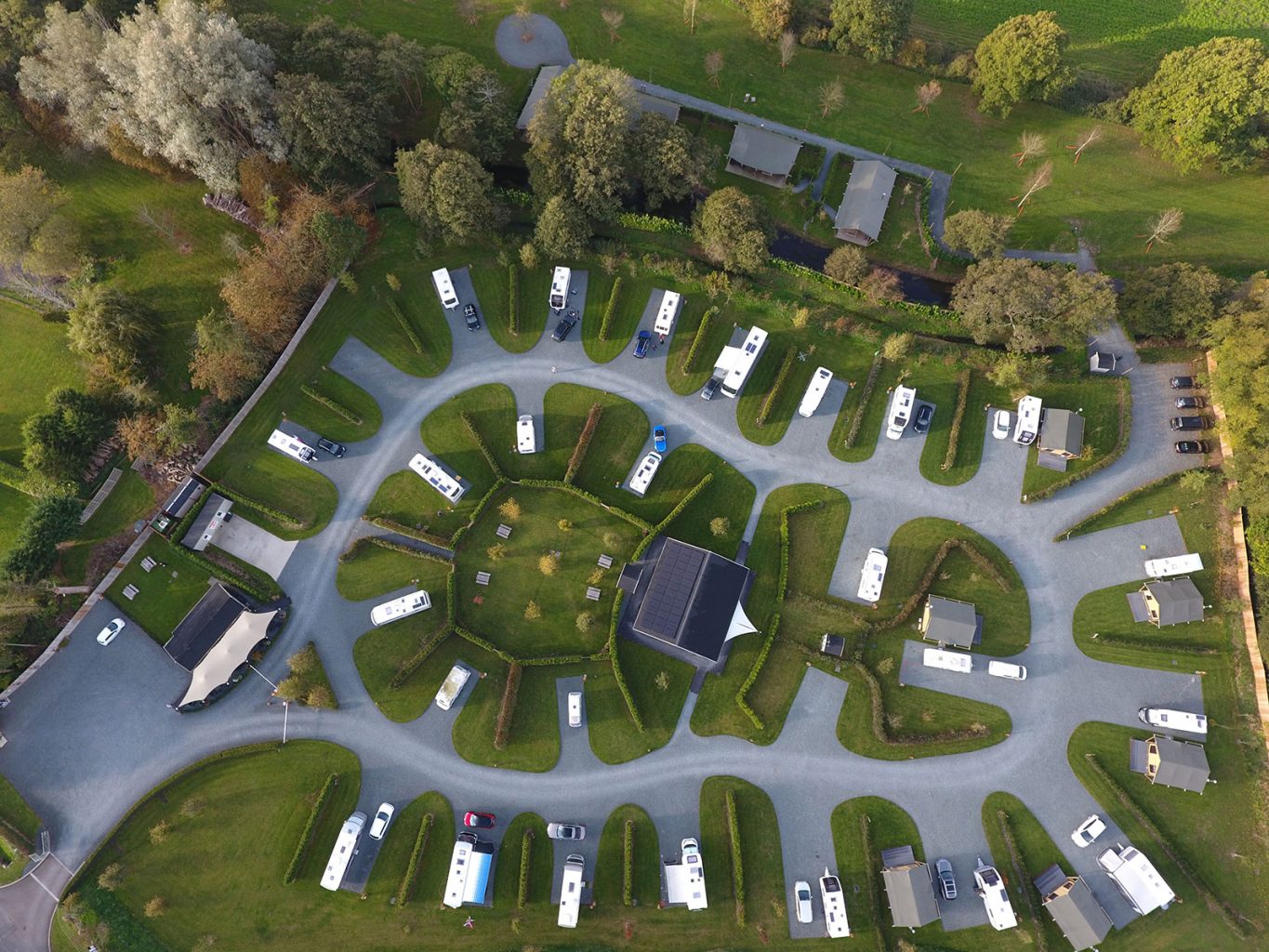 Luxury camping in West Sussex
Concierge Camping is an award-winning five star luxury campsite based on the beautiful Ratham Estate in West Ashling. Bring your tent or tourer and get closer to nature, or choose to enjoy the glamping experience by staying in one of our premium Safari Lodges.
However you choose to stay, you'll have access to our outstanding on-site amenities, award-winning washrooms and on-site shop.
We are proud to have achieved several AA Gold 5 pennant awards for our touring park and glamping lodges, and to be voted as AA England and Overall Campsite of the Year in 2019!
Walking holiday in Chichester
Whether you enjoy walking or cycling, or would rather drive to explore the area, we are surrounded by beautiful scenery in every direction at Concierge Camping.
For our walkers and cyclists, we think that you simply can't holiday at Concierge without visiting the beautiful South Downs National Park. This area sits along the south coast of England, and is a stunning natural area where you'll find some of the best views in the UK. The park runs for over 100 miles, starting in Winchester and reaching its end in the white chalk cliffs of Eastbourne. You can either walk the entire route in sections or use a bike to traverse the terrain quicker! Concierge Camping is the perfect base to rest and recuperate after a long day exploring South Downs National Park.
We highly recommend a visit to the historic catherdral city of Chichester, where you'll find year-round attractions across the four main streets.
Concierge Club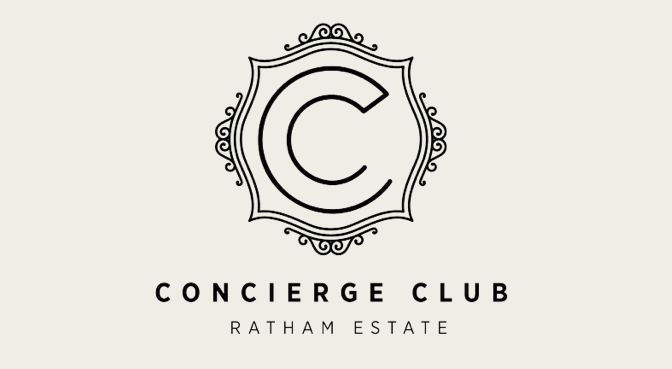 As we've mentioned throughout, joining Concierge Club unlocks a wide range of benefits, including discounts at some of the best local restaurants, pubs, vineyard and more. Enjoy premium experience on-site and in the local area with Concierge Club.